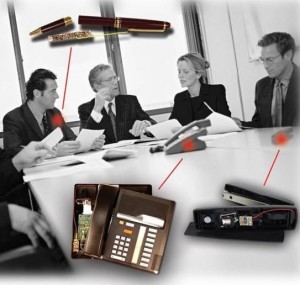 Due to recent events I would like to report about the topic international espionage and protection possibilities.
Since the last 17 years in which I am involved in security technology, I had some contacts to projects with eavesdropping protection. Whether datacenter, embassies, ministries or in the free economy, everywhere you will find areas which need protection against the different type of espionage, especially electronic eavesdropping.
While working on these themes I realized that it needs a specialist in eavesdropping protection. A specialist, which has knowledge about architectural shielding and also protecting from eavesdropping attacks.
Popular eavesdropping objects are as example telephones, mobile phones, computers and much more.
One of the specialist is the company EM-Shield located in Munich (Germany). For several years, the company employs with architectural shielding of buildings. The most projects, which they have to protect, are conference rooms or sensible rooms.
In the next lines I would like to inform you about the architectural shielding.
Good Protection with structural, mechanical and electronic security                      
There are three ways to guarantee unauthorized access to privileged areas of a company or access to sensitive information:  Structural, mechanical and electronic security is the way to counteract the attack. For several years, the installation of a bug proof room is astandard in companies with an essential Secure-strategy, to protect them from illegal eavesdropping. In such a room, the acoustic and electromagnetic waves are absorbed that it's not possible to get information outwards.
Architectural Shielding adapt to the existing room architecture.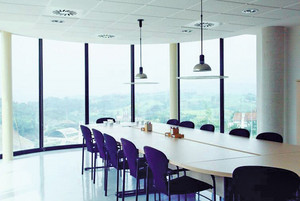 A good designed architectural shielding system fits perfectly into the given architecture. The term form follows function is a concept guideline with its origin in the field of design and architecture. The shape, the composition of things should be a direct result of its function an application. With architectural shielding systems the design and architecture are the focal point. This concept adapts completely too all possible room shapes and configurations. The shielding system allows all traditional finishing's of walls, ceilings and floors. In combination with smart detail solutions the shielded rooms can build with the look like an unshielded room. Major component of the architectural Shielding is the special shielding material, which eliminates the need for an additional support structure. It is breathable and allows conventional floor and wall coverings. The installation is similar to that of normal wallpaper.
Shielded room – Screening attenuation up to 80dB
For the user acceptance, it is extremely important that such a shielded room does not differ from conventional rooms. Installed by specialists, an attenuation of 80 dB, which corresponds to a factor of 10,000, guaranteed between frequencies ranges from 30 MHz up to 6.0 GHz.
One of the main areas of the current architectural Shielding is eavesdropping-protected areas. In an office or conference room, the possibilities of illegal eavesdropping are manifold. The critical passive emission arises in all parts of the used PC peripherals like video and graphics cards, printer ports, monitors, keyboards and hard drives. The possibility of eavesdropping is given over phone or mini transmitter and the data interface of the mobile phones can transmit data and pictures without logging.
Normal room atmosphere and safety
In these areas, the shielding-system cover the full range of its possibilities, based on the invisible shield of the ceiling, walls and floors with smart detail solutions for windows, doors and media's.
A so-equipped room offers the user a normal room atmosphere and the security of being able to perform his confidential conversations in a bug-proof room to protect his Information's. To protect the "spoken word", an additional acoustic insulation will installed additional to the electromagnetic shielding system.
Labor rooms with electromagnetic shielding
Whether a research laboratory of an industrial company that develops new products or control rooms in the pharmaceutical industry for long-term studies to test the effectiveness of new medical drugs, however it is still the focus to decouple and to protect these rooms with an electromagnetic shielding system.
Here, on the one hand, the interception and reading of sensitive data or information is important, in other cases therefore measurements must be free from external electromagnetic noises to get no miss interpretations of test results.
Due to the unlimited variety of this kind of rooms, including windows, built-in wet rooms, cleanroom request and media interfaces, an individual flexible room a shielding system is an ideal and suitable solution for these applications.
For more information on below link:
Conclusion:  Meanwhile is it very important, to protect your/our personal or technical data for unauthorized access and therefore it is good that there are such specialist companies as EM Shield.